Walk or ride in the heart of the Rhone Valley's vineyards
Vineyard as far as you can see, Crozes-Hermitage's plains, Saint Joseph and Hermitage's hillsides punctuate the seasons and draw our landscapes. Walking through, enjoying a car ride or electric bike ride in this landscape remain not to be missed experiences in the Rhone Valley's vineyards.
Small road, great wines
The famous Rhone Valley's Wine Route : roam around these stunning landscapes and admire breathtaking panoramas. From the D86 to the N7 roads, travel in Ardèche Hermitage, from town to villages with evocative names: Mauves, Tain l'Hermitage, Crozes-Hermitage… The map Ardèche Hermitage and Vignobles Septentrionaux of the touristic roads of Cotes du Rhône are available at our offices. The mobile site "Ma route des vins à la carte", leads you to our winemakers'.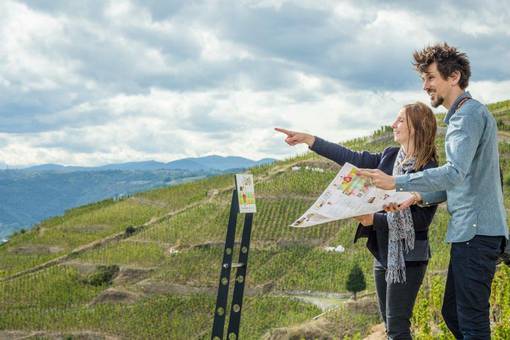 Hiking on Hermitage Hill
A legendary vintage, among the nicest appellation of the world, l'Hermitage is a wine to be kept because of its evolution during several years. This hill  and its walls whose the foundations bathe into the Rhône river is certainly one of the most emblematic images of the Rhône Valley. Hike on the Hermitage's hill, in the middle of the stakes on the Hermitage hills, following the "Sur les pas de Gambert" itinerary. Initiated by the "Cave de Tain", this discovery trail guides you through this famous hill. A 1h30 minutes hike in the heart of this precious terroir. Grape varieties, climate, soil, vineyards work, the Hermitage appellation will hold no secret for you. Free maps are available at our offices Ardèche Hermitage and/or at the Cave de Tain boutique, the trail is also available on a mobile site.
Discover these hillsides with an electric bike
Ride a bicycle, almost effortlessly, walk around these prestigious Hermitage and Saint Joseph plots. Discover stunning points of view on the Rhone River that depletes at the bottom of the hills. The electrically assisted bike will fulfil your open-air desires. Climb the hill at your own pace but most importantly : enjoy the landscape ! A thrilling experience, a must do for a perfect day in the vineyards of the Rhone Valley. Alone or with the advice of a sommelier, discover the terroir our beautiful region!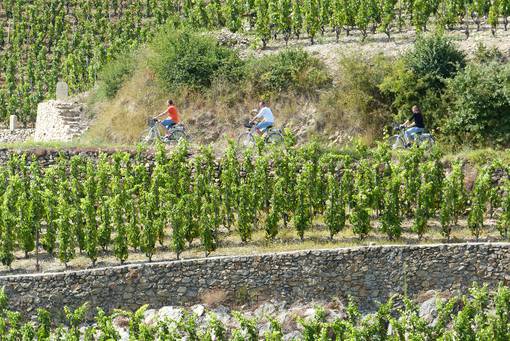 Savour our three appellations: Hermitage, Saint Joseph, Crozes-Hermitage
Enjoy the landscapes but not only… A tasting at our wine growers' and/or with our experts who share with pleasure their love for the terroir and our appellations, among the best of the septentrion of the Cotes du Rhône.
From Hermitage to Saint Joseph, discover our appellations
From one shore to another, the diversity of the terroir can be surprising: granite, pebbles, alluvium, gneiss, terres blanches… Wines derived from the same grape varieties : the famous Syrah for red wines, Roussane and Marsanne for the white. however it creates some very different appellations with a strong character. Crozes-Hermitage, the greatest appellation of the North of Cotes du Rhône, gourmet wine fruit and flower notes, it seduces by its simplicity and is best when tasted young. Saint Joseph is a little more complex, more animal, with full tannins that reveals over time and tastings and sublimates some dishes. L'Hermitage, so legendary, exceptional wine, which requires a certain patience as years reveal its aromas. It allies strength and subtlety. At its best years, prices soar, some vintages are among the best 10 wines of the 20th century.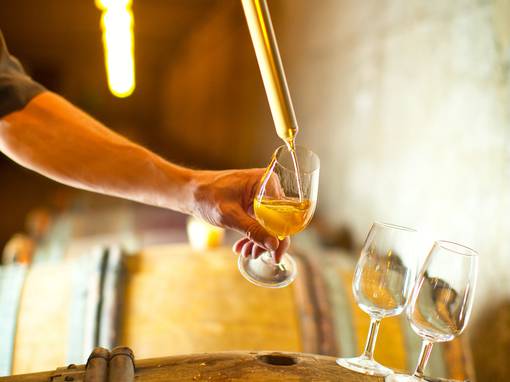 Meet our wine-growers
Internationally renowned wineries, cooperative cellars, independent winegrowers… Ardèche Hermitage has more than 70 passionate wine-makers  and just as many opportunities to taste wines from the Rhone Valley with moderation. Our certified "Vignobles & Découvertes" winegrowers welcome you all year long in their wine cellars and/or wineries in order to taste our great appellations. They share with you their knowledge and know-how, a true convivial moment. Neophytes, amateurs and oenophiles will be impressed by the quality of our wines. On our mobile site "ma route des vins à la carte", create a selection and let yourself be guided by our several vineyards of Ardèche Hermitage.
Our certified « Vignobles & Découvertes » restaurants
Since 2011, the Ardèche Hermitage territory is certified « Vignobles & Découvertes », a national certification that commits professionals offering excellent service and products and where sharing and authenticity are a priority. The certified restaurants are selected for the quality of their cuisine and passion for the world of wine. Renowned establishments for gastronomy and wine lovers, courses with wine pairings, enough to please your palates for your lunch break in the Rhone Valley's vineyards.
14 certified facilities offer a local cuisine with fresh seasonal products. These restaurants are committed to highlight  the "Vignobles des Côtes du Rhône" with a great wine selection chosen carefully. A tasteful moment that will allow you to discover the plurality of our terroir and reveal the diversity of local products, Ardèche Hermitage, a true foodie eldorado.
A day in the Rhone Valley's vineyards seems excessively short to learn all its secrets. Find our offer of accommodations certified "Vignobles & Découvertes" to make your stay in Ardèche Hermitage a little longer.
Alcohol abuse is dangerous for your health, consume with moderation.