Combine visit by historic train and bike ride
During the time of your cycling stay in Ardèche Hermitage, spend two days on a unique course combining Steam Train and cycling lane. The Gorges du Doux, the Eyrieux Valley and the meanders of the Rhône: exceptional landscapes will amaze you!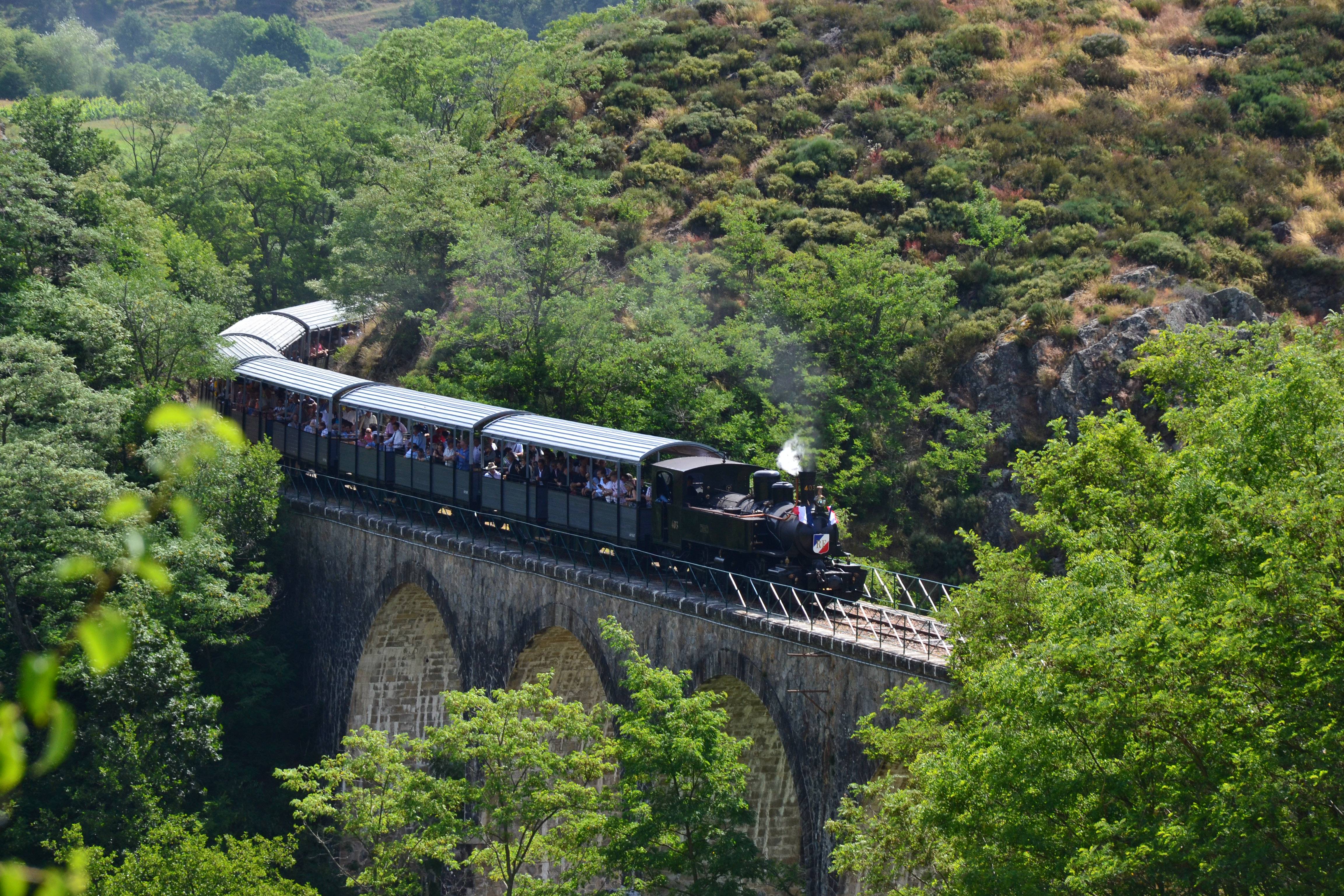 The « Train de l'Ardèche », a must
Embark aboard the famous steam train: Le Mastrou, located just 4km from the city center of Tournon-sur-Rhône. Thanks to its Mallet locomotives, the train can accommodate up to 600 people. Once installed in the wagons, you are ready for a trip to the heart of the Gorges du Doux to Lamastre, one of the starting points of the Dolce Via cycle route. The time of the journey, you discover mountain landscapes, the Doux river and the authentic beauty of the Train. A moment out of time that enchants certainly youngs and olds!
The greenway: Dolce Via
The Dolce via  is a gentle path from an old railway line that connects the town of La Voulte to Saint-Agrève in the Ardèche county. 90km of cycle path overlooking the Eyrieux valley. Nestled in the heart of a wild nature, you can admire viaducts, bridges and beautiful landscpaes, the time of your stay by bike. In order to take full advantage of this itinerary, prefer an All-Terrain Bike. The Dolce via is a well-equipped course (picnic table, water point) ideal for a well-deserved break. The old railway stops are also equipped and allow taking shelter if the weather is not nice.
Stay « Train de l'Ardèche » + Dolce Via + Viarhona
You hear the whistling of the train and see the beautiful plume of white smoke? So you arrived at the Mastrou station! Once your bikes aboard to the adapted wagon, you will have 1h40 trip in the heart of the Gorges du Doux, a wild landscape that leaves an unforgettable memory. This is the departure for your train and bike trip! Arrive in Lamastre, simply follow the signs on the city center to easily reach the Dolce Via. You start with a little elevation but, no worries, this part is also accessible for the family. After the tunnel of Nonières, Your journey continues, followig the old railway line. On your itinerary, enjoy the beach at the edge of the river for a short break in Ollières-sur-Eyrieux. This course of 110 kilometers, maybe realized on 2 or 3 days, book your nights, in campsite and / or B&B. Arrival at La Voulte, continue to Viarhona cycle route , ride along the banks of the Rhone river. Go up towards Tournon sur Rhône, from one bank to the other of the King River.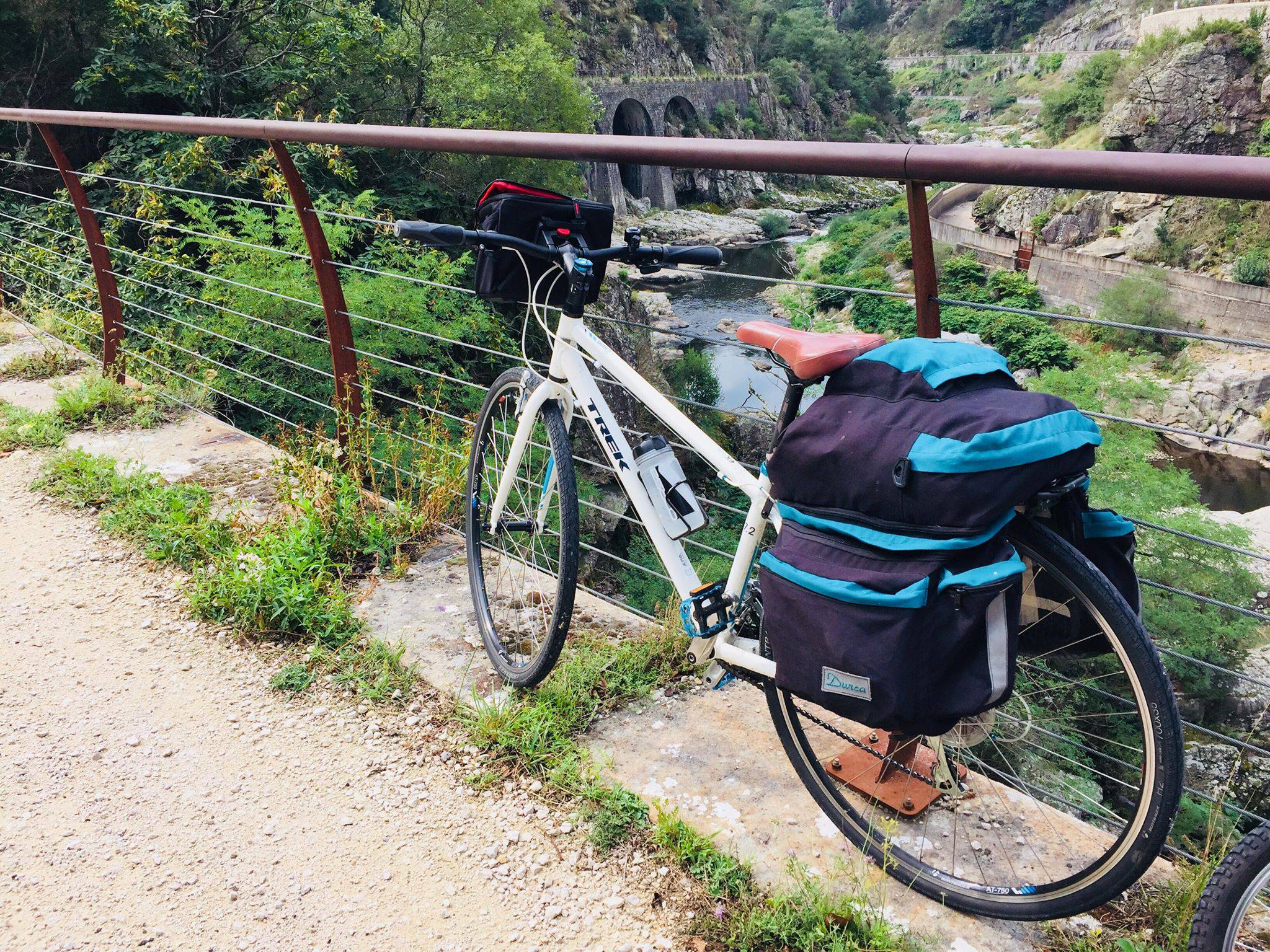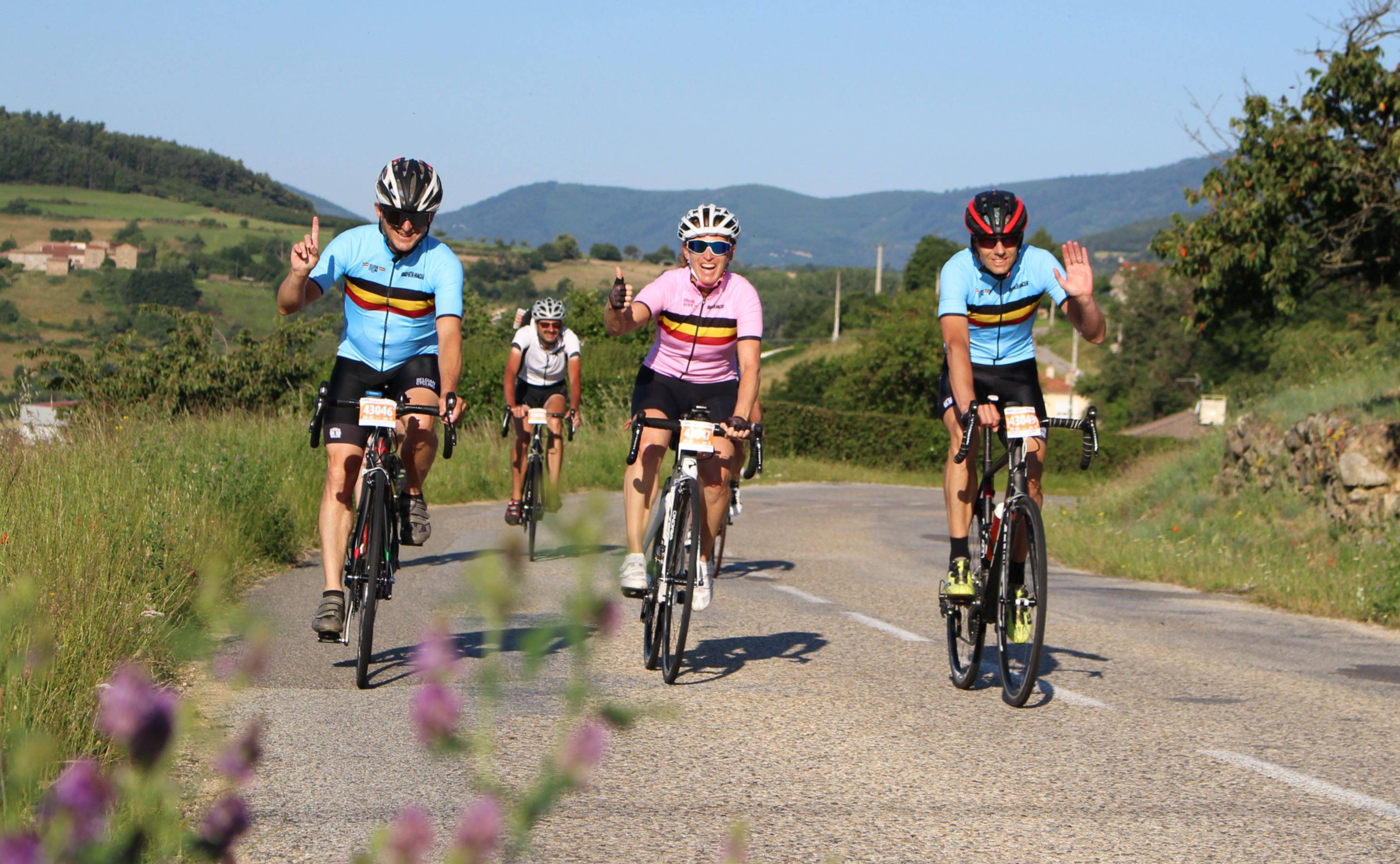 Climb easily
Do you want to go cycling on the roads Ardèchoise and / or the pretty paths but the difference in altitude scares you? Be lazy and keep only the descent! Book your bus trip from Tournon sur Rhône to Lalouvesc. Adapted buses, equipped with bicycle rack, allow you to reach without effort 1100m of altitude. Cycling and / or mountain biking in order to discover beautiful routes according to your level of practice.
Downhill circuits
Take a bus from Tournon direction Lalouvesc. Thanks to the bicycle racks, you can be drop  with your bike at 1100m of altitude. Once arrived there, enjoy ! Through the le Col du Marchand, SatillIeu, Saint Romain d'Ay and Sarras, ride towards Tournon, on descending cyclo routes. A  free map  is available in our reception desks, itinerary guide, cyclosport area.
Enduro circuits
For mountain bikers, these buses are also accessible, direction Lalouvesc. Arrival at destination, the sensations are guaranteed on 130km of marked route, site labeled MTB-FFC. Panoramic views, vertiginous descents, technical climbs, pretty single-tracks for your enjoyment. Going through Saint Victor, Étables and Saint Jean-de Muzols, you cross splendid landscapes along the Doux Valley.
Gourmet ride
During your stay in Ardèche Hermitage, discover the country roads where you can meet our fruits and vegetables producers, our winemakers or the inevitable Cité du Chocolat Valrhona!
The Cite du Chocolat, a must!
Whether you are on the Viarhona or on our itinerary "between vineyards and orchards" by electric bike, make a stop with chocolate flavours. The smell of chocolate will show you the way to arrive in this gourmet museum : The Cité du Choclat. Once inside, you get carried away by this chocolate atmosphere. All your senses are awaken, you hear the sound of crackling chocolate and let a chocolate square melt on your tongue to discover all the flavors. You travel to the other end of the world in the cocoa plantations and you discover manufacturing and in the history of the famous house. An experience to live for your greatest pleasure.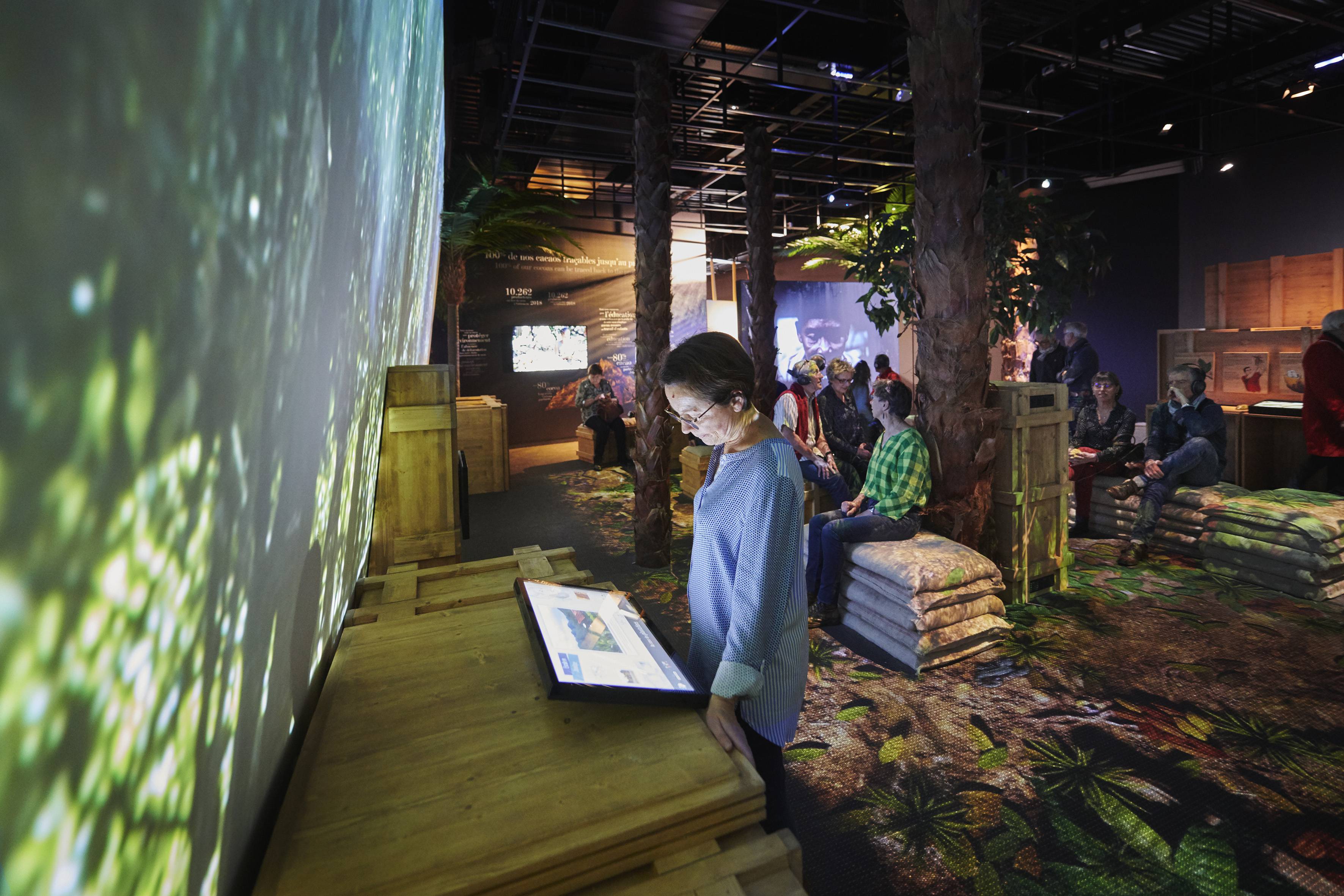 A restaurant for you and your bike!
In Ardèche Hermitage some of our restaurants are labeled "Accueil Vélo", but what is it ?A "Accueil Vélo" restaurant is located less than 5km from a cycle route, it has adapted equipment (bike shelter, repair kit ...) and ensures the reception of cycling customers. Ideal for a meal break without worrying about your bike. Along the Viarhona, in Tournon sur Rhône, Slow food café is a restaurant like no other. In addition of being labelled, it is also and above all, a houseboat. The opportunity to eat a balanced meal on the Rhone river.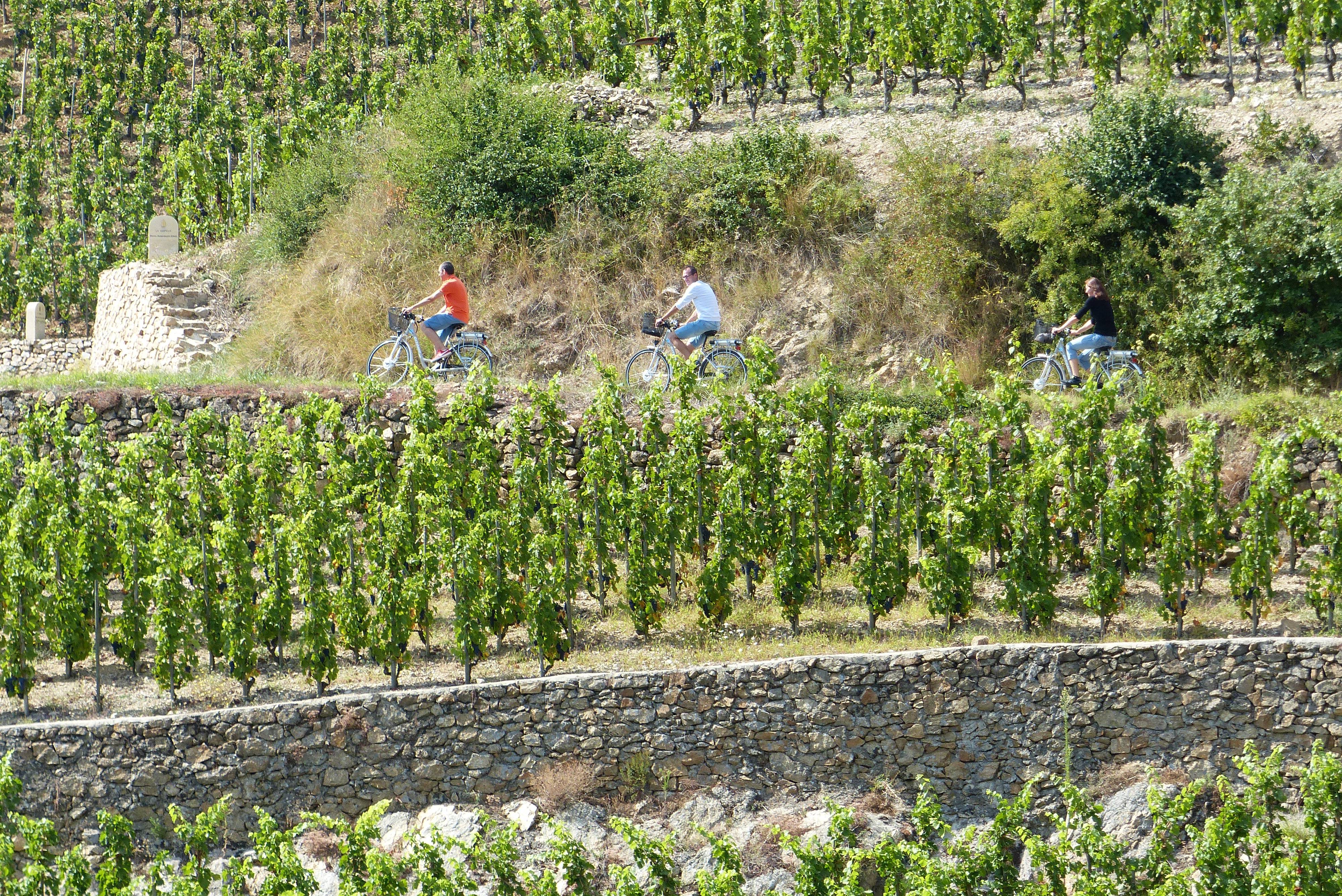 Our vineyards by bike!
Discover three world-famous AOP during your bike ride: St Jospeh, Croze-Hermitage and Hermitage, beautiful references for your cycling holiday in Ardèche Hermitage! Prefer the electric bike to climb on our hills. In Tain l'Hermitage, several possibilities are available for you to enjoy a bike ride while enjoying good wine. The Maison Chapoutier  and "Les Terrasses du Rhône au Sommelier" offers the rental of electric bikes for an original and gourmet outing. If you already have your bikes then take advantage of our guide and its itineraries along the wine route. And make a tasting stop at our winemakers, special mention at the Cave de Tain labeled "Accueil Vélo"!
20 routes on a electric assisted bike
Our beautiful region is full of surprises, with a little elevation in perspective, between the Ardèche mountains, the vineyards and the hills of the Herbasse region! So enjoy our specially designed guide with 20 routes for electric bikes. Inside, find all the information you need for your cycling holiday in Ardèche Hermitage. Tours ranging from 14 km to 106 km with their log book and practical information such as electric power. In order to facilitate your stay, you will also find our hotels, lodges and campsites labeled home bike, as well as restaurants, bike rental, activities and wine cellars. So take a little height and admire the splendid views!
Solo, couple or family your bike stay in Ardèche Hermitage is punctuated with local flavours and landscapes. Whether beautiful rides in perspective, panoramic views through the vineyards, north Ardèche mountains  or picturesque villages, let's go!