Welcome to Les Givrés in Tournon sur Rhône! You want to know the recipe of the  Fabrique Givrée: long-time friends, passion, love of good food, exceptional ingredients, and lots of fun! ! They are artisan ice-cream makers who love good products and whose creativity knows no bounds. They are real artists, presenting not just a selection of products but a real collection: stunning ice creams, wonderful sorbets, chef's kifs, XXL bars, chefs' cones and other frozen desserts. They work with high quality ingredients; the team selects suppliers as passionate as there are.  La Fabrique settled in Tournon sur Rhône, at the heart of the Rhône Valley but also in the French Gastronomy Valley, and benefits from the surrounding terroirs, which provide 80% of the raw materials. Beyond ice creams, everything is homemade: from the roasting of nuts to the marshmallows making, from streusel to muesli preparation…everything is 100% made in Ardèche.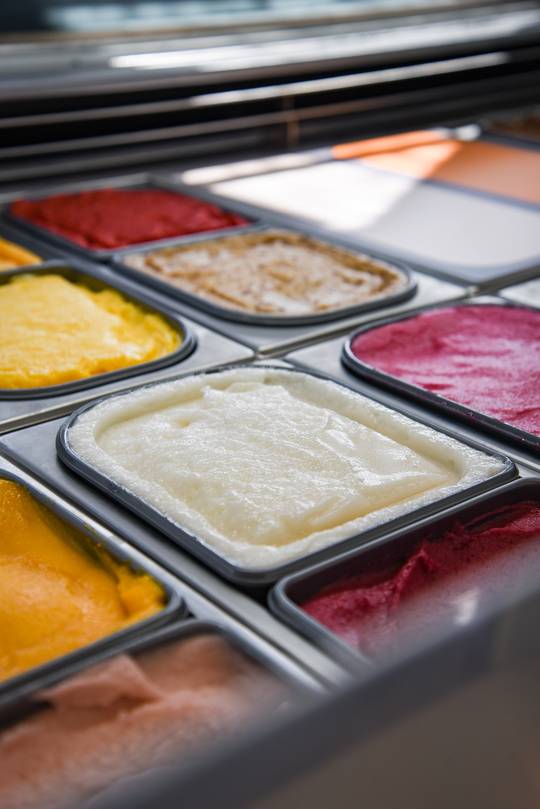 Come taste our original flavours such as roasted hazelnuts, Ardèche yoghourt, fresh thyme, lemon pie, Moroccan tea, roasted peanuts, orange blossom water… Let's not forget the basics: Madagascar's vanilla, milk chocolate, salted caramel, fresh mint, Mara strawberries, lemon, coconut… There is something for everyone!
Do you want to get ice cream in Tournon sur Rhône? Let yourself be tempted by our terrace: 55 impasse Burgunder. Opening hours
Where to get ice cream in Tournon : La Glacerie Dinger
This is the place to go for ice cream in Tournon sur Rhône, on the Quai Farconnet in the town centre! It is easy to spot the place: just look for the line of foodies waiting to enjoy a delicious ice cream. It's true that you may have to queue for a few minutes, but that is not by chance, and the reward is all the better for it. In jars, in cones, with or without whipped cream, with a coulis…You can pick between the numerous flavours according to seasons and local productions. Cédric is the one who makes ice cream and Jo, his wife, is serving you! You will recognize her quickly by her smile, her kindness and her wonderful British accent. You will be pleased with their products' quality; there is no doubt about it! If you need to take an "ice cream" break or increase your blood sugar, it's the place recommended by every cyclists and it's located near the Viarhona.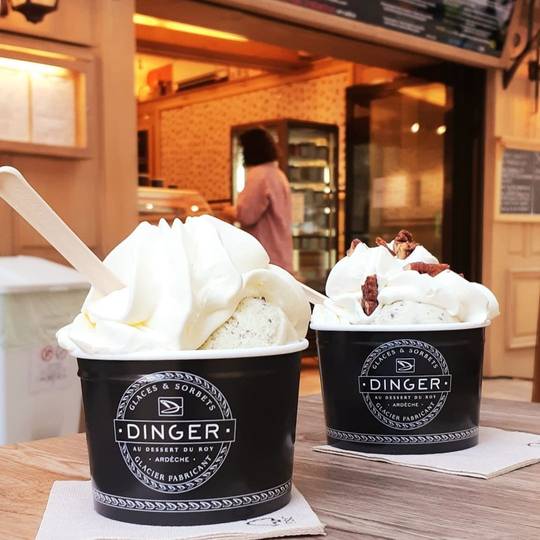 A well-known place for the food lover: the Patisserie Intense, located in the middle of the pedestrian street and the shops of Tournon. There is no need to introduce the chef Bastien who won, in 2017, the World champion title in pastry with a team at the SIRHA (Salon international de la restauration, de l'hôtellerie, et de l'alimentation). This Bakery is also a tearoom, handled by Margaux, partner and wife of Bastien. Come and taste the pastries named as Antoine, Charlotte, Léon, Anne…surprising and tasty names! It is an allusion to the history of the building where now resides the bakery. The building was a school, and the name of the pupils are still inscribed on the coat rack when Bastien and Margaux visited the place. They were inspired by those names and decided to use them for their pastries. During summer, the bakery creates frozen desserts, ice creams and sorbets take out or take in on the beautiful terrace, which is located at the centre of playground! The ephemeral flavours, all along summer, are just an excuse to come back to get an ice cream in Tournon sur Rhône.
Come take a break from the heat with delicious Valrhona Chocolate ice creams in Tain l'Hermitage! Two flavours to die for Dark Chocolate MACAE 62% or Chocolate DULCEY 32% with crunchy pearls. The Italian way in jars or in cones. You can also enjoy the gardens of the Cité to savour in the shade this sweet ice cream. A playground is installed for children, it is ideal for a family snack time. You can also leave with your ice cream to seat along the Rhône. Enjoy your Ice Cream in Ardèche Hermitage!
Does your mouth water? Then come get your ice cream in Tournon sur Rhône! Those three artisanal ice cream makers will be more than happy to welcome you for a tasting on the terrace or for their takeaway ice creams. It's so good to be a food lover in Ardèche Hermitage!
(permalink)