A selection of journeys to be discovered from April to November with the Train de l'Ardèche
Are you here for half a day? For a whole day? Or even for several? Do not worry, the Train de l'Ardèche has a journey for you in any case! Relax and get on board with the steam train to make memories you will never forget!
The Train des Gorges, the half-day discovery tour
Get on board for a one and a half hour journey with the Train de l'Ardèche. Reach the starting point in Saint-Jean-de-Muzols, only 5 minutes away from Tournon-sur-Rhône by car ! It is the ideal tour for a half-day trip to discover the beautiful landscapes of the Ardèche Verte as well as a unique location where river and mountains come together in a subtle harmony.  Once you have settled in, you will be heading towards the small train station of Colombier le Vieux, which will be reached after a journey of about half an hour. Get yourself ready, we can assure you that this stop will amaze children just like adults ! Why ? Because of the majestic landscapes ?  Of course yes, but there is more… the train needs to turn the other way around in order to go back to the train station: you can therefore admire the impressive turnaround of the engine during this short break ! A rare and perilous manipulation indeed … only two men are in charge of moving the 20 tons locomotive ! A magical moment and an experience that will leave you with a head full of memories !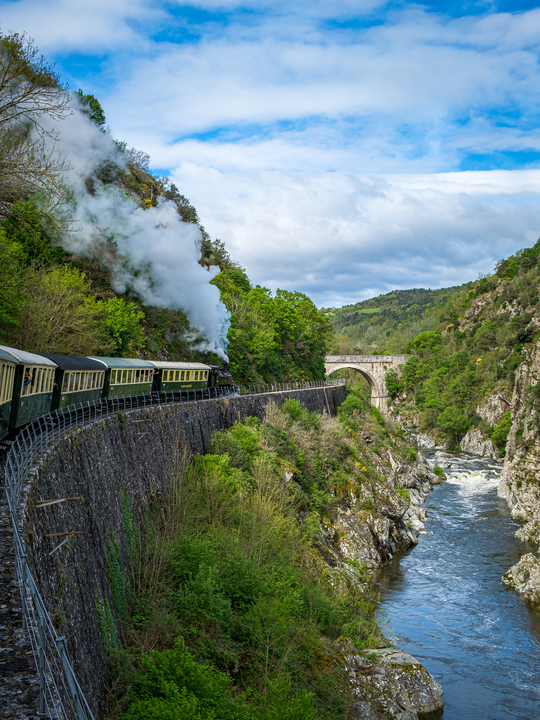 The Mastrou, the must-see day trip
Here we go again ! Do you have a whole day to spare ? If so, do not hesitate and go for a ride with the Mastrou ! A journey with the steam train which will take you on a longer trip. From Tournon-Saint-Jean station, you will board the train for an excursion to the town of Lamastre. An outward journey of about an hour and a half offering an exceptional view on a wild landscape, which will doubtlessly give you the shivers. Grab your phones and cameras to take the most beautiful shots and immortalize this unforgettable moment on board of the famous Mastrou. Once in Lamastre, you will find several restaurants where you can enjoy traditional, generous and authentic dishes just like our beautiful region. You can also choose to have a picnic and enjoy these convivial moments with your family and friends. Later, in the middle of the afternoon, do not forget to get back to the station's platform to get back down to Saint-Jean-de-Muzols at 4.30pm. What are you waiting for ? Book your trip !
The trip to Boucieu, a day to celebrate heritage
There you go ! This time we are taking you to Boucieu le Roi. Set off for one of the most beautiful village of the Ardèche Hermitage territory! A village made of stone also known as "the village of a thousand secrets" which is definitely worth the visit. For this day trip, plan a departure at 10 am and an arrival at the station of Boucieu le Roi at 11 am. The return trip will take place later during the day at 4 pm. These few hours will allow you to enjoy a meal in a local restaurant or to have a picnic by the river if the weather allows it. After the lunch break, go for a walk in the historic centre of the village.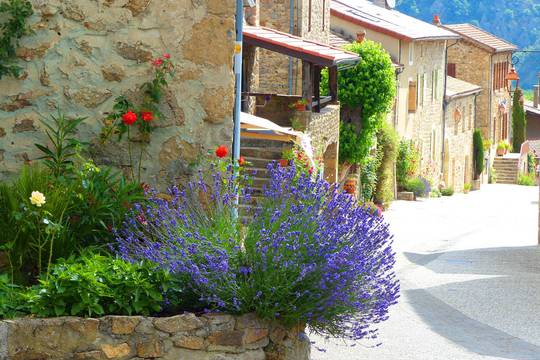 Steam train and Railbike: the perfect combination for a day full of great activities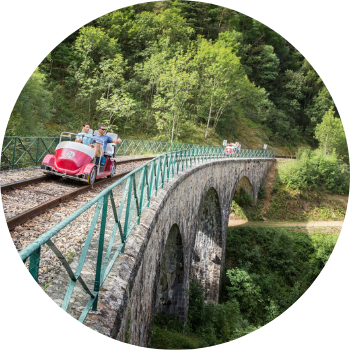 Rail bike or steam train, what to choose ? No need to hesitate! Combining the two activities during the same day is possible ! Enjoy a car-free day with a ride on the "Mastrou" from Saint-Jean-De-Muzols to Boucieu le Roi. Once you reach the station of this lovely village, classified as one of the most beautiful villages of the area, take a seat in one of these Beetle-like red cars and get ready for 8 kilometers of pedaling at the heart of a "sensitive natural zone". Do not worry and go at your own pace! No need to be a professional cyclist, a fun time with friends and family awaits you! Little tip: do not forget to bring a snack for a well-deserved break at the end of the course and before the return trip in train !
The market train in July and August
Looking for something different ? During the summer, embark on a diesel train to Lamastre and take the opportunity to discover one of the biggest markets in Ardèche.  The Train de l'Ardèche offers you the opportunity to experience a gourmet and convivial morning. Stroll through the market and leave with a basket full of the area's finest products: picodon, seasonal fruits or even charcuterie. You will find all you need to enjoy a delicious treat on your way back to Tournon-Saint-Jean station.
A bike carriage for the Train-Dolce Via loop over several days
This time, we are not talking about a railbike but an actual bicycle ! A unique experience not to be missed to discover our cycling routes at the heart of a preserved nature. The Train de l'Ardèche offers you the possibility of embarking your bikes in a specially adapted carriage so that you can take them on board to Lamastre. Once you arrive at Lamastre station, the loop Tournon-Train- Dolce Via-Viarhona-Tournon will require several days (at least 2). Along the road, you will be able to admire the sumptuous landscapes of the Eyrieux Valley, another must-see in Ardèche!
You also need to make sure that you do not miss out on the other loop offering a train journey, a bike ride on the most beautiful roads of Ardèche and a trip back to Tournon by sailing on the Rhône with the Compagnie des Canotiers.
Practical information: How to come ? Where to book ? What to do on the spot ?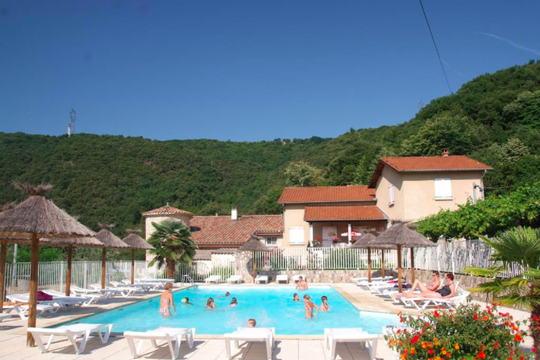 Are you charmed yet ? Come to Tournon-sur-Rhône in Ardèche Hermitage ! If you need accommodation, we have everything you need: Hotels, B&Bs, gites or even campsites! A 5-minute drive or a 15-minute bike ride will then take you to Tournon-Saint-Jean station. How practical! A large car park is accessible at the station so that you can park your car and your bikes safely. Motorhome pitches are also available for the guests of the Train de l'Ardèche.
Make sure to book your tickets online on the website of the Train de L'Ardèche. If you already are on the spot, you can go directly to the train station to buy your tickets 30 minutes before the departure. However, in the high tourist season, we strongly advise you to buy your tickets in advance in order to avoid any unpleasant surprise.
Feeling like a refreshment ? The on-site refreshment bar, which offers a view on the mountains and on the historic locomotive, is perfect for you to enjoy your favourite drink.
Looking for a gift for your loved ones or for yourself ? A souvenir shop offers you plenty of gifts related to the train theme: pens, cuddly toys, hats, wooden toys... You will find everything you want to immortalize this wonderful activity with your family.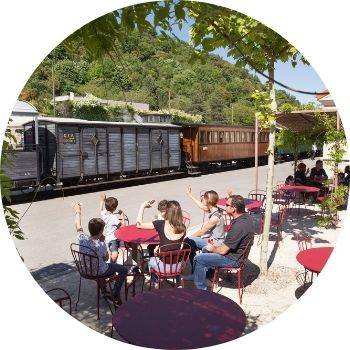 (permalink)