Dolce Via buses, shuttles to transport your bikes!
The « Palisse » coaches based in the small village of Etables in the north of Ardèche offer shuttles with secure loading of your bikes! 
April, 16th, May 26th,June 4th, Jully 13th and 27th, August 3rd and 15th, September 10th and October 8th. 
Enjoy the descent part of the Dolce via ! 
You park your vehicle at the old station of Saint Laurent du Pape for a pick-up in the morning at 9 am, with the possibility of making a stopover at Ollieres sur Eyrieux (16km), Le Cheylard (45km) or at Saint Agrève (58 km). Then departure by bike to return to Saint Laurent du Pape.
Each of these Dolce Via buses or shuttles are priced at 29 euros per person with bicycle transport from Saint Laurent du Pape to Saint Agrève, but if you want to stop to Le Cheylard you will just paid 19 euros !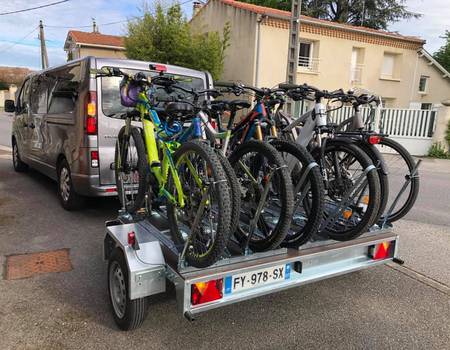 Do you want to leave directly from your accommodation to come for a bike ride in the Eyrieux Valley?
Palisse coaches offer a Dolce Via Bus on request with bicycle loading. For 8 people, a minibus is at your disposal and for more than 15 people it is the coaches that take over. Remember to book at least 48 hours before departure, there are a lot of requests!
You have completed the descent by bike from the Dolce via and you do not want to go up to Tournon via the Viarhona? So contact the Palisse coaches to take advantage of this shuttle with the transport of your bikes!
Contact them for Dolce Via buses on +33 4.75.08.40.11 or by email at autocars.palisse@orange.fr
(In a sector of about 30km, on request and subject to availability)
Bike trips on the Dolce Via cycle road from Tournon sur Rhône!
Book a stay in the heart of the Ardèche for a unique experience between greenways, short cruise on the Rhône and steam train journey. Discover wild landscapes to admire without moderation along the various routes offered just below!
Ardèche, Dolce Via and Viarhona greenways then train journey for a nice loop!
Here we go, from Tournon Saint Jean de Muzols station, take a seat aboard the legendary steam train: Le Mastrou ! A car specially designed for your bikes is available, but be careful to book a place for your bike (free of charge). This is the lazy part of the loop! Enjoy the typical landscapes of the Ardèche in the heart of the Gorges du Doux. Between mountains and river, the steam train sounds like stepping back in time with the famous "Tchouuu -Tchouu" Children or not, the eyes of young and old alike amazed by this spectacle.
Arrival at Lamastre station, here we go for the adventure ... Get back on your bikes, head for the Dolce Via cycle route. From Lamastre, count 12 km of small climb then 60 km of descent to go to the edge of the Rhône river, destination the Viarhona Green Way.
Consider making one or two stops, either the loop in 2 or 3 days: Tournon-Dolce Via-Viarhona-Tournon! Indeed, you will have about 54 km from Beauchastel to Tournon sur Rhône via the Viarhona greenway.
The return to the Viarhona will be on the flat along the river, the Rhône. A setting different from the Dolce Via but just as pleasant! On the way, remember to stop at the Musards basin in the village of Roche de Glun. On your return to Tournon-sur-Rhône, take advantage of the bars and restaurants on the terrace to rest after this beautiful getaway.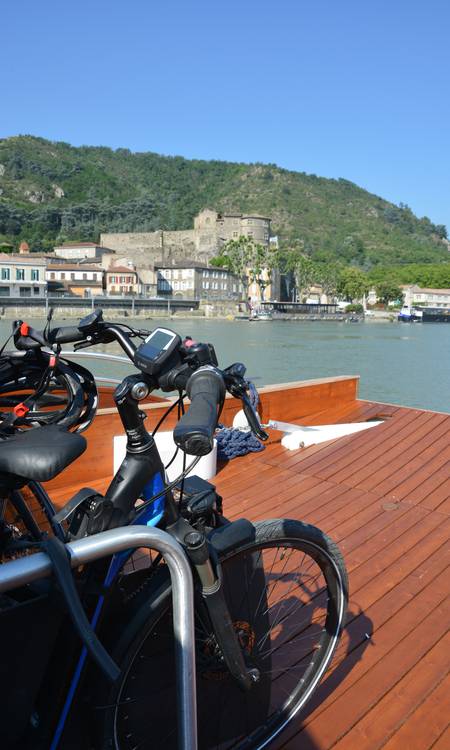 « Bleu-Vert-Vapeur » Loop!
From Tournon sur Rhône, no Dolce Via bus (except by reservation with Palisse coaches) but a boat! It'possibel to leave from the Tournon quays to go to La Voulte sur Rhône, a unique setting to the rhythm of the water with the passage of a lock. When you arrive at La Voulte, take your bikes back on the boat towards Dolce Via cycle way! Pedal towards Lamastre, 75 km with a slight positive slope. It is therefore preferable to stop at a campsite or in a guesthouse along the Dolce Via to leave in good shape. From Lamastre, board the famous Mastrou, the steam train that brings you back with your bikes to your starting point: Tournon sur Rhône. Like stepping back in time, the Train takes you to the heart of the Gorges du Doux, a magical moment to end this excursion in style.
You can do the « Bleu-Vert-Vapeur » loop in the opposite direction starting from the train to return to Tournon sur Rhône by boat on the Rhône!
Come and escape by bike in Ardèche region, thanks to the Dolce Via buses every Thursday of this summer from July 8 to August 26 and on request from your accommodation and the rest of the year!
From Tournon-sur-Rhône, you have a wide range of cycling activities! And if you have VAE (electric bikes), you will be seduced by our guide to 20 electric bike rides.
No bikes? Do not panic ! Discover our bicycle rental companies here!
We are expecting many of you for the holidays in Ardèche Hermitage!
!
(permalink)