The Black Truffle from Drôme des Collines
A soon as we pronounce the world truffle, we imagine its distinctive and heady perfume, its taste exalting our dishes, its roundness and color that makes it also known as "the black diamond". We invite you to discover the truffle in Drôme des Collines : a treasure often hidden at the foot of an oak. Its unique and enchanting taste make the Black Truffle a real gem of our gastronomy.
Drôme French department is the largest Black Truffle producer. Also called Tuber melanosporim, Black Truffle from our region is highly appreciated. Thanks to the good climate and the sand and molasses soils, the mushroom reveals all its roundness and magnificence for which it is renowned, and that makes all the difference with the truffle from the south of the French department.
In Drôme des Colline region, there are about 1500 hectares of plantation, and almost 500 producers of Black Truffle. The harvest takes place between mid-November and the end of March, and it is the truffle grower and his best companion, the truffle dog, that are in charge of the truffle hunting. A Protected Geographical Indication (PGI) record is in progress, and if it succeeds, it would be the first GPI for truffle in France, a great recognition for such a specific product. The Noble fellowship of Black Truffle in Drôme des Collines  is working hard to promote the qualities of this black diamond in our region.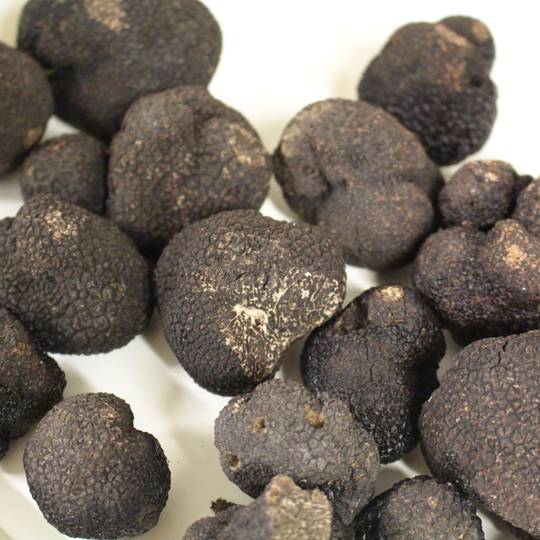 La Baume Saint Antoine : discovering truffle in Drôme des Collines
It is in the Balmes hill, in Romans sur Isère, that Karine and Franck Boissieux are settled. It is a family farm, own by truffle enthusiasts for generations. Franck Boissieux represents the third generation, after his parents and grandparents. Here, in the Blames area, the soil is calcareous and the molasses is highly present, an ideal ground for the truffle development. In La Baume Saint Antoine, Franck and Karine take care of 12 hectares of holm or white oaks, and hazelnut trees. This last generation has planted "truffle trees", before that truffle hunters only worked with wild truffles.
Groups and individuals are welcomed in La Baume Saint Antoine for a discovery of the truffle in Drôme des Collines, with a visit of the family farm and the tasting of a delicious meal in their farm hostel. There are several formulas for every gourmet :
From November 1st to March 31st, La Baume Saint Antoine organizes truffle discovery days for groups of 10 minimum (possibility to privatize the day). With enthusiasm, the rabassier (a passionate who looks for truffles), will explain the Black Truffle secrets to you. The program includes a truffle patch visit and a meal on the farm hostel La Baume Saint Antoine.
For individuals, La Baume Saint Antoine has a calendar of the truffle season : you just have to choose your day, to book and the truffle discovery, including a meal on the farm-hostel for a gourmet day, starts.
Élodie tested for you a soirée at the truffle patch of La Baume Saint Antoine
When I was offered to discover the Drôme truffle in La Baume Saint Antoine, I did not hesitated for one second. I have to confess that when we speak about truffle in our team everybody look at me … Food lover, good terroir products enthusiast, and bond to my Drôme des Collines roots… yes, I am guilty ! Therefore, it is with a great pleasure that I went and met Karine and Franck Boissieux for a truffle discovery directly on their farm.
I drive along the small roads of this Balmes hamlet where we can observe many baumes (a cellar, in our regional dialect) that enable an ideal truffle preservation. It is obvious : I am in the right place! When I arrive at La Baume Saint Antoine, I discover a magnificent landscape, I am surrounded by oaks, and facing me, the Vercors montains.
I am welcomed by Franck Boissieux who shows me his family exploitation : he speaks with passion about the black diamond, about the different variety in each region and country, and about truffle production in Drôme des Collines. We enter in La Baume, which contain a shop, a projection room and a six-meter-high gallery. In the past, farmers used these galleries as shelters for their livestock, the fodder and agricultural implements.
The discovery starts with a movie about our host black diamond and their family farm.
Karine then invites me to follow her in the truffle oaks plantation. During the truffle season, it is possible to assist to the truffle hunting accompanied by the two dogs of the house. What a joy to learn so much about this extraordinary mushroom!
The day ends nicely with a truffle meal offered at the farm hostel, located near La Baume. The dining room is welcoming, just like our hosts. Franck is cooking and I can already smell the black diamond perfume. The starter is a delicious cream and truffle pie, with a salad. The main course consists in the famous brouillade of truffles (kind of truffles omelet), an explosion of very rich flavors.  The meal ends with half a Saint Marcellin (cow cheese) and a truffle ice-cream : a surprising and very good discovery. My taste buds are in heaven!
In a very pleasant atmosphere, the day ends. My knowledge about the black diamond improved a lot, I am delighted!
The end of the year celebrations are coming and we often say that the love of good food warms our hearts! It gives me Christmas gifts ideas, because Karine and Franck offer gift vouchers, an original idea to discover the truffle-growing world.
Good to know: the opening of the truffle season in Ardèche Hermitage region takes place at the end of November! Go on a trip to discover truffle in Drôme, and shop it for the end of the year celebrations, or savor a delicious dish in one of Ardèche Hermitage restaurants that cooks the precious black diamond.