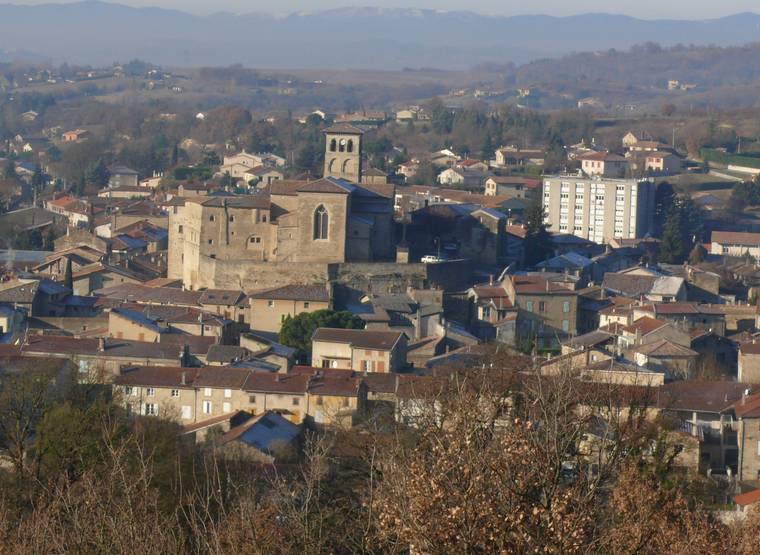 Description
Welcome to « Vicus Jovenciacus » or « Jovis Viens », Jupiter's borough. It is nice to imagine some
druids building a temple dedicated to Jupiter overlooking the Herbasse river and the surrounding
woods. When Christianity came to this part of Gaulle, the burgh was named JOVINCIEU or JOVENZIEUX.
History books are not very accurate, but we know that in 1732, when Saracen troops invaded the country, the site became a shelter for Corbus, 20th bishop for the Grenoble Diocese. When running away, the bishop took Saint-Donat's relics with him. Saint Donat was a Holy Hermit, born in Orléans,who died at the beginning of the 6th century in the Lure range, near Sisteron. On the ruins of Jupiter's temple a palace and the church were built and they were dedicated to Saint Donat by Corbus and his successors. Saint Donat's fame was so great that Jovinzieux became a famous place of pilgrimage and took a new name « Castrum Sancti Donati » during the ninth century.
During the Second World War, Saint Donat was an important place for underground fighters, in
connection with the Vercors « Maquis ». It was,too,a shelter for many refuges, and among them, two
famous writers, Louis Aragon and Elsa Triolet.
- Cultural heritage -

Visit Saint Donat
---
Le village
26260 SAINT-DONAT-SUR-L'HERBASSE
Tour
Guided tour by the Tourist Office, 10 persons minimum, on required.
Group tour average time: 60min
Grouped tour
Unguided group tours available permanently
Individual tour
Unguided individual tours available permanently
Services
Aire de stationnement camping-cars
Aire de pique-nique
Médiathèque
Salle d'exposition
Zone ludique
Parking
Parking à proximité
WC publics
Bar